I ordered from
Poison Apple Apothecar
y way back in March. These are what gave me the idea to do a stink blog in the first place! I got them and procrastinated myself into forgetting all about them- review wise anyway. I've been wearing them on and off when the mood hits me and now I think I'm ready to tell you what I think of them! So without further blatherings and brain farts...Lets get to the sniffin!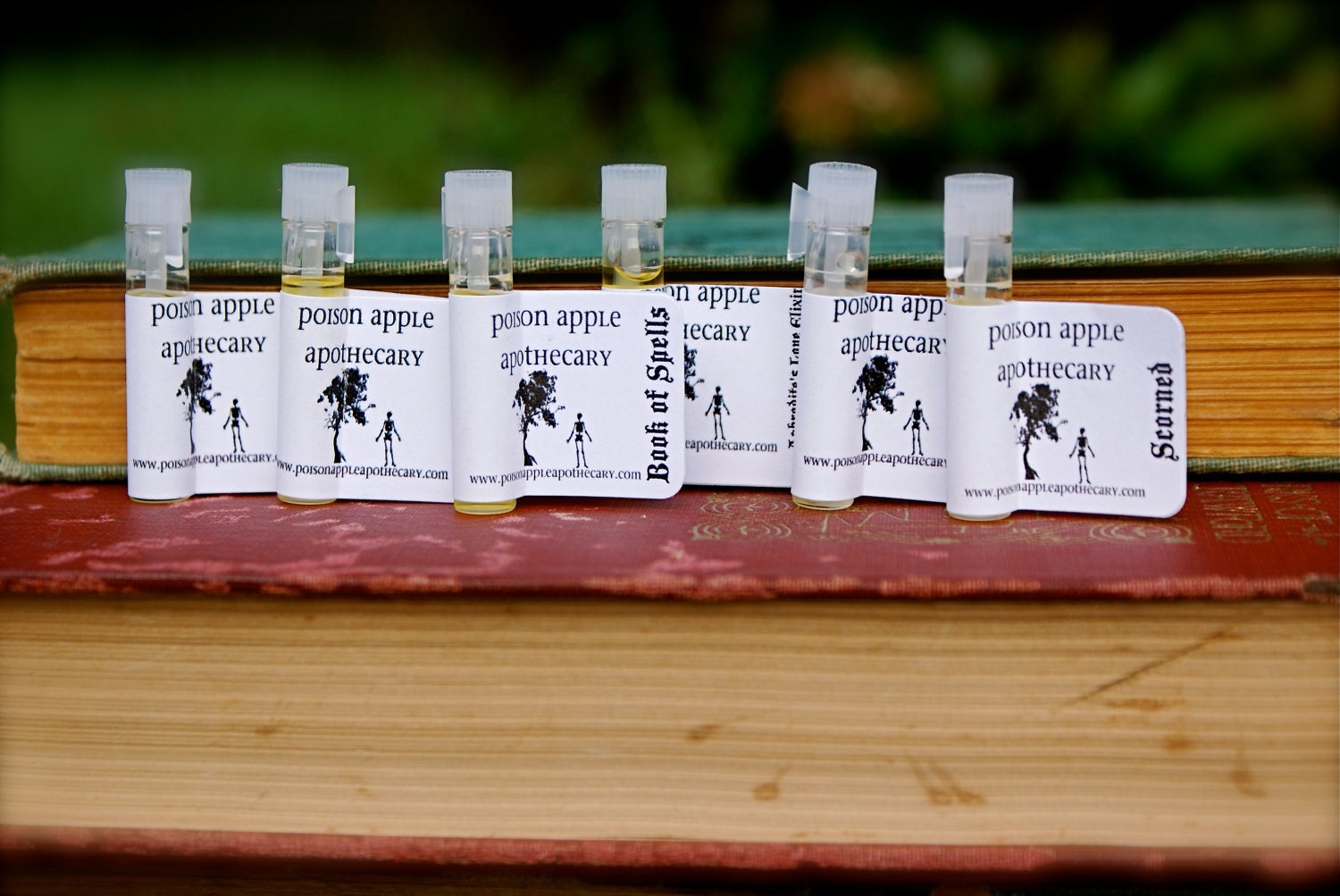 photo property of poison apple apothecary
Lady Victoria
"An embodiment of the Victorian Gothic era. A lady in all outward appearances, but there may be something darker lurking underneath…. Jasmine and Vanilla laid gently upon an enigmatic veil of musk."
This to me smells like a light clean smell- like a warm clean ladylike soap. The musk in this isn't dark or particularly musky. It smells like a sweet, clean, floral. As it warms on my skin it smells like a lady. Not old. Not super sweet. No ozone sort of smell. Just really lovely. Completely wearable all year long. On me, it stays pretty close to the skin. The florals slowly deepen and develop without becoming overwhelming or elderly. I think I'd call it a feminine floral for people who don't think they like feminine florals. I really love this one.
Pumpkin coach
"Inspired by the tale of Cinderella. The lovely maiden's fairy godmother picked a pumpkin from the patch and with a wave of her wand transformed it into a majestic coach to whisk Cinderella away to the royal ball. This is the scent of the magical pumpkin racing through the woods over crackling autumn leaves seconds before the spell breaks at midnight."
I was the most excited about this one when I ordered. First off- right out of the vial I smell pie crust. A few seconds in the pumpkin smell starts to come in. What I smell more than anything is pie crust. Secondary notes are butter and pumpkin. But not so foody that it's off putting. Mild and warm. Nothing wrong with that. Not a lot of staying power. Also stays close to my skin.
White Rabbit
"The perfume inspired by the White Rabbit begins to evoke an ardent sense of restlessness but dries down to a smooth composed blend. This perfume is sweet and creamy with notes of White Chocolate, Sassafras, Caramel, and Cognac."
Fudge, I smell generic sort of fudge smell. Warming up the smell gets a little stronger. Tiny bit of caramel and cognac... very slight. As it settles a bit more you get where the white chocolate comes in... a mild sort of floral- insanely light. When it dries down it becomes a super light, kinda generic chocolate smell. That's kinda it. I expected a little more from this one- but it smells nice. Faint and close to the skin. Nearly zero staying power though. Almost gone before the dry down is even complete. Bummer.

Gilded
"Named for the Gilded Age which took place in the United States during the Victorian Era. After the Civil War the population boomed and the country found celebrity in the extravagantly wealthy. This perfume is the scent of pure optimism and hope for things to come- sunny lemon, a touch of verbena, and a pinch of sugar."
Best effing smell ever.
Smells a little like lemon pledge out of the vial. Then a strong sort of sour lemon candy scent hits...Morphing into a full on YUM lemon sugar cookie. I could shit myself with how much I love this scent. It remains sort of bitter which, to me, makes for a cleaner sort of cookie smell- The lemon scent never gets lost in this perfume- which is probably what I love about it. If I had this in a lotion I would slather it on every time I started to feel bleh. Again, wears close to the skin. Stays a little longer than some of these but not long enough in my opinion... because I LOVE it.
These scents I could no longer find in the store or on any scent lists. I am still going to toss them to you in the event you run into them on the nets for swap/trade or on ebay.
Town Lush.

This is no longer on her list of scents. Which is really sad. This is gorgeous. It's wine and something sort of herbally/minty - uuuugh I wanted a full size of this. Maybe I can look around the nets for it. It's smells really lovely. I am kicking myself for waiting so long to do a write up on these.
Apothecary Apple
Another bummer. Clean soap and warm apple. Smells so good- I can't even. It's just magical. I'm puzzled as to why this one didn't make it. The only thing I can think is that she could no longer get her hands on the scent. Fresh and lovey.
A little product info.
These are her own blends and the carrier oil used is listed as Jojoba Oil.
The perfume oils come in three sizes:
10ml 24.00usd- 5ml 13.00usd- 1ml sample vial 1.95usd
She also sells sample sets which is what I picked up. Six samples of your choice to They also sell lotions and scrubs, but because I didn't try any of them... I'm sticking to talking about the oils.
So what is my overall impression of
Poison Apple Apothecary
?
I really like it. It all smells really nice. None of the scents rely too heavily on basic musks and filler scents. The lasting power is at best two to three hours. At worst, between ten and thirty minutes. That kinda blows. That said, the staying power for perfume oils can differ from person to person based on your personal body chemistry. The usual time I've had with most of the perfume oils I've tried has been around two to four hours. The throw on these was not the best. I can smell my skin while I sit here typing this... but someone next to me would catch maybe a very subtle whif in the air if anything at all. I'm imagine that if you used the lotion and the perfume oil you could get a little more staying power and throw. Layering never hurt anyone.
Would I buy from them again?
I think so. I really like Gilded and Victorian Lady. I may give them a try in full size or the lotion. Based on the Customer Service alone I'd buy from them again. When I ordered (forever ago) she was about to go on a trip out of state and she sent me constant updates on what was going on- and messaged me personally when the items had been shipped. I don't know her. She didn't owe me that kinda of service- it's just how she runs her business. I was incredibly impressed by that.
Good news! They just opened a free standing site of their own! And it's the grand opening so they're on SALE! "For our grand opening please use code 5OFF20 to receive $5 off your entire order of $20 or more!" Click here to go to their awesome sauce site and pick up a few things to try out!
If you do pick anything up let me know what you've got and what you think of it. I am always looking for mew scents to give a try.
tits!
-MT
Disclaimer: I bought everything myself. I don't get anything for sending you there or any of that crap. Just taking it upon myself to , as always- spread the love. Cheers. Aslo, all photos used for this post where borrowed from the
PAA
web site, and are their property.